Men-Chuen Company Organization
Men-Chuen's headquarter, where the central management is based, is located in Neihu Science Park. The Knitting and Manufacturing Division, Dyeing and Finishing Division and Logistic Center are all located in Taoyuan, Taiwan. In Vietnam, there are Giang Dien Knitting Manufacturing Division and Nhon Trach Dyeing & Finishing Division.
Each department and division comprised of its own responsible unit overseeing the performance and productivity within its own territory. Through effective communication and organized structure, all departments and divisions form a solid foundation as Men-Chuen's backbone and fully support Men-Chuen towards globalization.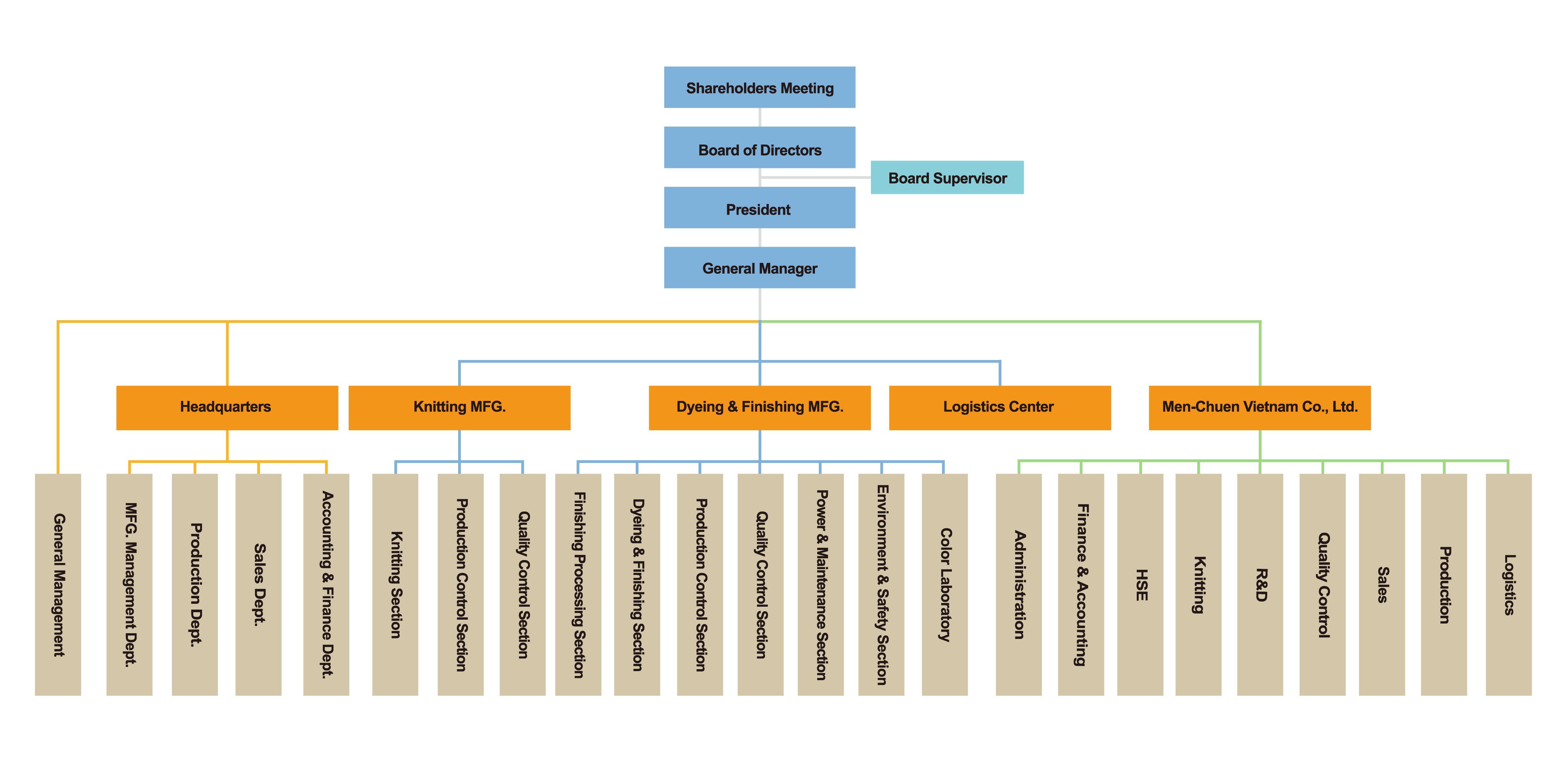 Responsibilities of Various Departments
President Room

Responsible for short-term, mid-term and long-term strategic planning, implementation, monitoring and response.

General Management

The executing unit of annual business plan and strategy, including the management of human resource and information security.

Product Dept.

Explore new material and develop multi-functional fabrics; leading the trends by brand management and integration of internal and external marketing activities.

MGF Management Dept.

Ensuring the production progress and delivery to enhance the fluency of manufacturing and logistics.

Sales Dept.

Order management and customer service for enhancing customers' satisfaction.

Knitting MFG.

The previous process of the vertical production integration which provide excellent greige through standardize operation process to Dyeing & Finishing MFG.

Accounting & Finance Dept.

Planning and implementation of financial management, capital allocation and offering management accounting information.

Logistic Center

The final distribution of vertical production integration for shortening distribution and cycle time with logistics management.

Dyeing & Finishing MFG.

The center of the vertical production integration which produce high quality fabric products by dyeing and finishing.